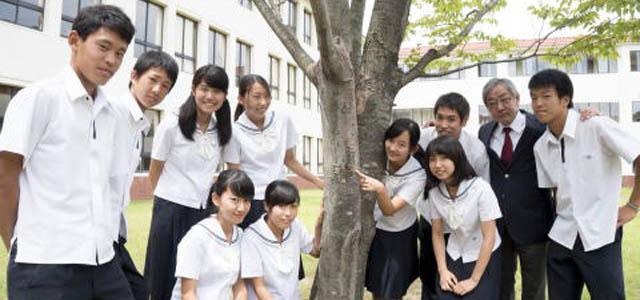 THREE WISHES
When you first come to Keimei, you will be attracted by its beautiful campus and bright school buildings surrounded by the green mountains of Yokoo, overlooking the sea of Suma. Students will greet you, and they will make you happy.

We all have our own individual name and individual life. We all want to live as a human being with self-esteem. I want you to keep that in mind. We teachers are hoping to walk hand in hand with you during your most sensitive adolescent years when you experience dramatic changes. We want to create the moments together to seek and believe what we cannot see and find out what the most precious things in human lives are. When you continue to think of how to live the life you were given to live only once, you will be able to create your own "life style." Your answers will be found in your everyday school life at Keimei.

I want you to learn three things at Keimei. First, acquire the skill of learning on your own in order to find your theme of life without being told by others and to nurture your own personality throughout your life. I want you to be a person who can think by yourself and act based on your own beliefs. Thus, you will be a lifelong learner able to live your own precious life actively. Second, be a person who can feel the suffering and happiness of others. Don't be a person who thinks only of your own happiness. Fully enjoy your adolescence and become a person who can share your happiness, anger, misery and joy with others. Don't be self-centered and always be with others. Third, be a person who will take responsibility with pride as a person being loved by God and surrounded by friends, as a student of KEIMEI and as a child of LIGHT.

Those who live with self-esteem and self-confidence will be able to contribute to others and to lead society. You will be a "Leader of the World" with profound knowledge, wisdom and respectable humanity. Leadership training acquired at Keimei will make you a good leader in society throughout your life. Thus, you will be "the Light of the World and the Salt of the Earth." Invisible richness of life exists in KEIMEI's school life.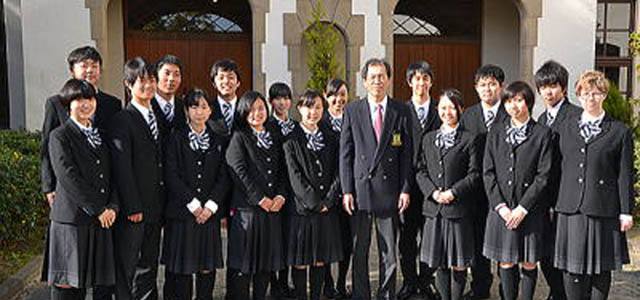 You are the light of the world. Matthew 5:14
In Keimei Gakuin, deep and enrich encounter is waiting for you. Through them, you will be able to grow dramatically and enjoy school life, and brighten your lives. There are many such opportunities as camping in an inhabitant island, English camp, and so on. It is important to realize such occasions near you and challenge them courageously, which will improve and transform yourself. You will find your life-theme by awakening dormant gifts that you don't recognize.
What is important is to overcome yourself and understand others' plan. It is those who are blessed that must serve others. That is the spirit of "noblesse oblige". Challenge is not only for realizing your own wish but keeping inspiring yourself and knocking the door to become the one who is needed by the society and the world. Moved by others' compelling wishes, you will more strongly want to realize your own wish. When you are trying to prioritize others' wish over yours, God will surely be with you.
My sincere desire is to make Keimei Gakuin grow according to the mission given to Keimei. We will continuously seek the best form of our school; students always consider and seek and pray for others' benefit rather than their own.
Continuous efforts by all in Keimei is the only way to realize our mission described in the Bible phase: "Make a store for yourselves in heaven."
You are surly gifted abundantly. I'd like you to challenge various kinds of chances utilizing gifts given to make the world better place than now. Let's keep learning from various challenges and treating others as yourself with love and sincere blessing, and ignite your spirit and that of others. I'm looking forward to seeing you who are interested in many kinds of things with cheerful faces.
Akira Yasufuku